I have a confession…
I wrote this post 2 weeks ago and haven't published it.
But, it still rings true today so I thought I'd publish it anyway.
Is that okay?
—1—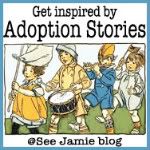 I'm getting inspired from Adoption Stories on Jamie's blog. If you are considering adoption or have adopted, I'd like to encourage you to head on over and read a few stories or share your own.
I read: 5 secrets to make a marriage last and immediately posted it all over Facebook and Tweeted it to everyone I knew. It was that good. You need to read that blog post, if you haven't already.
I'm getting more and more excited about renewing our vows and about (hopefully) wearing my dress again…I brought my dress home out of storage but have yet to open the box and try it on. I paid a fortune to "preserve" my dress. Hopefully it was money well spent. We have a date and now I need to order invitations. Are you ready to help me pick some out? I'm going to need some suggestions because trying to get ready for our adoption is taking my focus right now.
—4—
The kids have been busy at
art camp
the last two weeks and I'm so proud of the
masterpieces
(proud much?) they've created. It is such a thrill to find places in our home to display their
art
work. We're going to kick it up a notch and frame some of their work around the home.  I really believe strongly in displaying their creations and I love seeing the little smiles on their faces as they watch me hang up their work.
—5—
This video really inspired me…Does adopting one child really make a difference? Well little Lucy Lane's single adoption has lead to many other adoptions of one…Its amazing what one person can do and how a single child can make such a huge impact on others.

Lucy Lane Gotcha Day – One Year Later from kristi on Vimeo.
—6—
Our son was recently
baptized
in our backyard pool by his father and our Pastor. It just doesn't get better than that.   It was nice to have something so special (and eternal) become associated with our new home.
—7—
Big Daddy and I went away to Little Palm Island to celebrate our 10 year wedding anniversary. It was an incredible 2 nights away.  We cannot wait to go back. I think I'm still full from our first meal there…
 You can participate with your own 7 Quick Takes below…